Stray Dog and Cat Rescue - Rehabilitation / Adoptions
We save domestic animals, mostly dogs and cats in our Jemez Valley that suddenly find themselves homeless. Sometimes this is a result of being dumped in our mountain area or being left behind when their previous owners moved. Many of these animals need medical care, including spaying and neutering and shots. Most are in need of simple training like learning to sit and not jump on people. Others need to learn to trust people again. So we give all our animals lots of love, training, and health care in order to rehabilitate them and make them adoptable for a forever family. Once they are ready, we advertise them on our web sites and take them to adoptathons to give them visibility to potential adopters.
Lost and Found Services
We have reconnected many lost animals with their owners, whether local or visitors. Owners that have lost an animal call our toll free number and report the details to us. We then put an all members e-mail message out. We also advise the owners to put up posters. These are very effective in getting an animal back. The same process is used for found animals as well, except that we create and post "found posters". If after 5 days, a found animal isn't claimed, we then intake the animal for the adoption process.
Feral Cats - Trap / Neuter / Release
As we learn of feral (wild) cat colonies that are being supported (fed) by a local resident, we offer traps, on a loan basis to the residents to be able to go in and TNR them. Trapping (T) and then getting them spayed or neutered (N) and then released (R) back to the colony where they are living. The caretaker of the colony will need to continue to support the colony by providing food and shelter for them.
Feral Cats - Colony Support
As mentioned in our TNR program, it is most important to feed the colony of wild cats in order to keep them healthy. Many caretakers of the colony really like having the mousers in their yard and area, but sometimes they cannot afford to feed a large number of cats. That is where we come in to control the population with spaying and neutering.
Foster Homes
Since we do not have a shelter, we couldn't do what we do without our wonderful foster homes. These folks that take in cats, dogs, kittens and puppies for us make the rescue efforts work! While the daily love and care is provided by the foster parents, our organization provides all the supplies and vet care during the stay at the foster home. Periodic checks are made on the status of the animals and arrangements made with the foster parents to pick up the animal to go to adoption events.
Assistance for Spay & Neuter
We have two programs to help you spay or neuter your pets:
1) You can take advantage of our Low-Cost Spay/Neuter Program at any time of the year. Under this program, we cover 50% of the cost of surgery at the low-cost vet clinic we work with. A simple phone call to us and we'll arrange your appointment.
2) When JVAA has sufficient funds and if a mobile spay/neuter clinic is available, we bring spay/neuter services to the Jemez Valley. We place posters throughout Jemez Valley and announce the dates for these low-cost mobile clinics in the Jemez Thunder. The mobile clinic can accommodate up to 23 animals and it always fills up fast!
3)  We usually have one or two Spay Neuter Clinics each year, in the spring and fall if we can arrange the veterinarians to come to the Jemez. We will post the date on our Facebook page when it is confirmed. Our Low-Cost Spay/Neuter Program is available all year.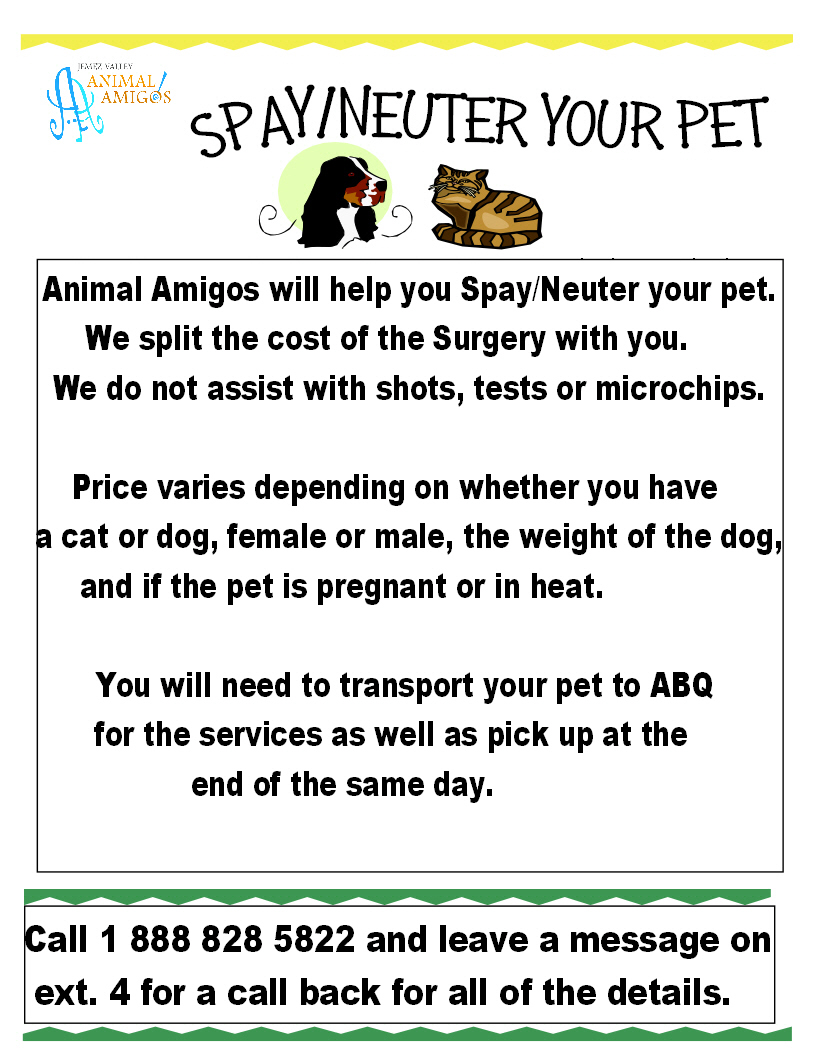 Fund Raising Events
Without funds, we couldn't do anything. This area is so critical to our success, since most of our funds go towards vet care to make the animals ready for adoption. We have a direct mail campaign in the fall. We have collection jars in many of the local businesses. Wine 4 Wags event is held in the fall and raises money through ticket sales and auction of local artisans donated items. We try to attend as many fairs and community events as possible to raise funds for our furry friends.
Disaster Evacuation Assistance
In our mountainous area, forest fires sometimes require that residents evacuate their homes. When this occurs, often it is tough to find places to temporarily house their animals. Our group is in touch with the emergency officials and we quickly step in to assist anyone that needs help getting the animals to a safe place until they can return to their home.
Auto Accident Emergency Recovery of Pets
We are available to temporarily take on pets from families and cars in road accidents. The Emergency Services personnel are usually at a loss as to what to do with animals in vehicles when the occupants are taken by ambulance for medical care.
Acceptance / Transfer In of Extreme Needy Cases
Since most shelters are overfull, occasionally we are called by some in the state for help with extreme injury or abuse cases. Since we are small and foster home based, if we have a place to help the animal become rehabilitated, we will take it on. With a one to one care of these animals in a foster home, they can physically and emotionally recover much faster than in a shelter environment.
Public Relations / Media / Websites
We have several means of getting our adoptable pets visibility. We use the Petfinder.org, Adopt-a-Pet and Petango websites. We have a Facebook page where we posts lots of information.  The Facebook page is under Jemez Valley Animal Amigos.   In special abuse cases, we attempt to get media coverage from our Albuquerque television stations or from the Animal Advocate group Animal Protection of New Mexico. We also attend many community fairs and events to give us visibility and to assist with our fund raising efforts.